Did you know
Did you know that Reflex Nutrition have been making supplements in the UK since 1996? We own and operate 3 purpose built factories making supplements in accordance with strict ISO9001 Quality Control Procedures. All of the electricity we use is 100% Deep Green from Ecotricity, the UK's leading suppliers of Green Energy.
Reflex Guarantee
Formulated to be the market leader

Better value than the competition

Made with 100% renewable energy and a recyclable container

Made in accordance with ISO 9001 procedures and randomly drug tested in accordance with ISO17025
Diet Protein available now!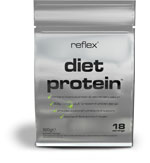 Diet Protein Launched!
Diet Protein, the highly anticipated diet shake from Reflex Nutrition is now available to buy in Chocolate and Strawberry flavours. Banoffee flavour coming soon!
Reflex Nutrition have used the latest advances in protein and weight loss technology to bring you a product that's specifically designed to aid those interested in maintaining a healthy, well defined and toned body.
Diet Protein provides additional Nutraceutical Support
Each serving of Diet Protein is packed with additional diet support. Green Tea extract is added for its role long standing reputation for aiding dieters, whilst friendly Lactospore pro-biotic bacteria provide intestinal support.
Diet Protein has a very Low GI.
Diet Protein contains no added sugar or maltodextrin. It's perfect for dieters wanting to restrict their carbohydrate content.
Amazing Taste
Diet Protein comes in a variety of mouthwatering flavours. All of which have been up against a taste test panel to ensure that they are the best tasting diet shakes on the market.
Newsletter
To sign up for our e-newsletter submit your details below.

Protein Testing
By testing every batch of whey protein or protein powder focused product that we produce, we have literally set a new global standard in the sports supplement industry.
See the latest Protein Testing Certificates